Rita Evans, Instrument, created during the Bauhaus Residency Programme, 2021. Materials: Metal, wood, microphone, woollen textiles (dyed with barberry), microphone. Photo: Valentina Buitrago Garcia
For artist Rita Evans, her work Instrument is a tool for navigating in fictional, collective spaces. The sensitive sound sculpture is a means to explore a complex infrastructure that includes touch and affect. Instrument establishes a relationship between the people playing it and the area around them, thus connecting the collective of people surrounding the sculpture and its materials. The sculpture conveys 'touch' and 'being touched' at different distances from each other. The space formed by the group around the object involves the Instrument as an actor and mediator of touch and movement.
The workshop, which preceded the exhibition opening, experimented with body and material to create novel points of relationship. These are charged with the current changes and constraints of the pandemic – in close proximity, connected but at a distance, allowing Instrument to serve as a sensible infrastructure for the players.
The Instrument also serves as an experiential medium to find out what the use or biography of their work might mean for this individual group. Is it an independent organism that gradually unfolds during the performance? Or does the Instrument serve as an exploration of collective boundaries and transitions? For Rita Evans, this use is a collective action that visualizes the Instrument and makes it tangible.
The documentation shows the workshop that took place and on which the work is based. Visitors hear how the object sounds. The drawings, plans, room scores and objects shed a light on process components that emerged from encounters with the sound sculpture.
Curator: Florian Strob
Project Management: Valentina Buitrago Garcia
In cooperation with Galerie für Zeitgenössische Kunst (GfZK), Leipzig
Instrument was played on the Bauhaus Stage by students from Anhalt University of Applied Sciences Dessau. Filming: Mauricio Sosa Noreña and Valentina Buitrago Garcia. Editing: Rita Evans. Sound Production: Phil Lee Audio. Colour Grade: Mauricio Sosa Noreña.
Workshops on the Bauhaus Stage: 
Above: A clip from Trio Spheres, sculpture performed on the Bauhaus Stage.
Above: A clip from Send Receive, sculpture performed on the Bauhaus Stage. Performed by international students at Anhalt University of Applied Sciences, Dessau.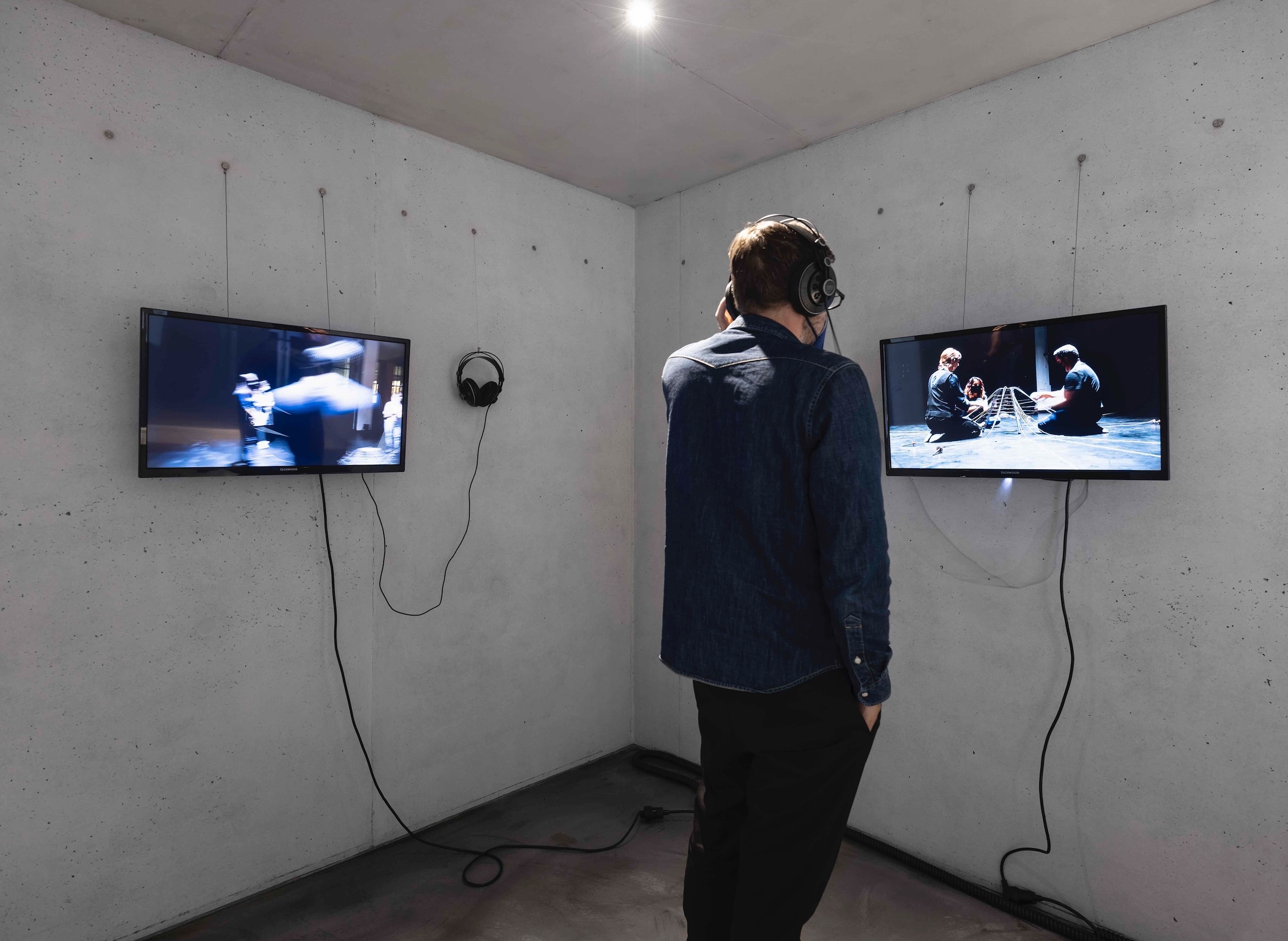 Residency Studio, Masterhouse Muche: