Instrument was created during the Bauhaus Residency Programme, 2021. Materials: Metal, wood, microphone, woollen textiles (dyed with barberry), microphone. Still from documentation of workshop-performance.
Instrument was developed on residency at Bauhaus Foundation in 2021 and exhibited in Gropius Haus, alongside works by Charlotte Posenenske / Alexis Lowry (Dia Art Foundation) in response to the annual theme of Infrastructure. The exhibition 'Fictional' was curated by Dr Florian Strob, Bauhaus Foundation Residency Director, 2019-2022.
"Artist Rita Evans has been working at Haus Muche since September, experimenting with materials and forms and exploring what sound they produce when played and moved by a group or audience from the public. She will be in contact with the people of Dessau to discover new ways of playing her sculptures.
Works of art and artistic work processes create specific new approaches to the world and in this sense are fictional: the term is derived from the Latin verb "fingere" and means nothing other than "to shape, form, imagine." Thus, fiction does not primarily entail the creation of a world of one's own, but can just as well mean the shaping of the existing world, the real. Fiction is thus also a way to gain distance, to question realities, to see them anew.
In their work, artists also explore how meaning and value are constituted in a specific present. What is told, why and how? And what differences, points of friction, and overlaps arise when fictions are dedicated to the same theme but realized by different artists with different means?
For the artist with British-Canadian roots, space is a stage for which she develops objects made of ceramics, textiles, water, wood and metal that move at the intersection of sculpture, display and instrument. The musical performance thrives on the communication between audience and contributors who play the same instrument together.
Instrument, the work Rita Evans developed for Haus Gropius, creates a connection between the body of an individual and the space of other bodies, a collective of people that includes the sculpture and its materials. A film shows documentation of previous workshops in which the instrument was played by individuals. In combination with the drawings, plans and spatial scores created in this context, visitors can experience the exhibition space as a sensual infrastructure.
Instrument is a tool for navigating in fictional, collective spaces. The sensitive sound sculpture is a means to explore a complex infrastructure that includes touch and affect. Instrument establishes a relationship between the people playing it and the area around them, thus connecting the collective of people surrounding the sculpture and its materials. The sculpture conveys 'touch' and 'being touched' at different distances from each other. The space formed by the group around the object involves the Instrument as an actor and mediator of touch and movement.
The workshop, which preceded the exhibition opening, experimented with body and material to create novel points of relationship. These are charged with the current changes and constraints of the pandemic – in close proximity, connected but at a distance, allowing Instrument to serve as a sensible infrastructure for the players.
The Instrument also serves as an experiential medium to find out what the use or biography of their work might mean for this individual group. Is it an independent organism that gradually unfolds during the performance? Or does the Instrument serve as an exploration of collective boundaries and transitions? For Rita Evans, this use is a collective action that visualizes the Instrument and makes it tangible.
The documentation shows the workshop that took place and on which the work is based. Visitors hear how the object sounds. The drawings, plans, room scores and objects shed a light on process components that emerged from encounters with the sound sculpture. Curator: Dr Florian Strob, Bauhaus Foundation Residency Director, 2019-2022.
Project Management: Valentina Buitrago Garcia
In cooperation with Galerie für Zeitgenössische Kunst (GfZK), Leipzig
Link to exhibition page at The Bauhaus Foundation.
Instrument was played on the Bauhaus Stage by students from Anhalt University of Applied Sciences Dessau. Filming: Mauricio Sosa Noreña and Valentina Buitrago Garcia. Editing: Rita Evans. Sound Production: Phil Lee Audio. Colour Grade: Mauricio Sosa Noreña.
Workshops on the Bauhaus Stage: 
Above: A clip from Trio Spheres, sculpture performed on the Bauhaus Stage. Trio Spheres Composition: 'Instrument' is performed on the Bauhaus Stage by adding wooden balls and threads to create relational rhythms played by three people.
Above: A clip from Send/Receive, sculpture performed on the Bauhaus Stage. Performed by international students at Anhalt University of Applied Sciences, Dessau. Video documentation shows a clip from the first of four compositions titled 'Send/Receive', 'Hypnotic Threads', 'Pendulum' and 'Levitation', performed on the Bauhaus Stage to create relational rhythms played by eight people.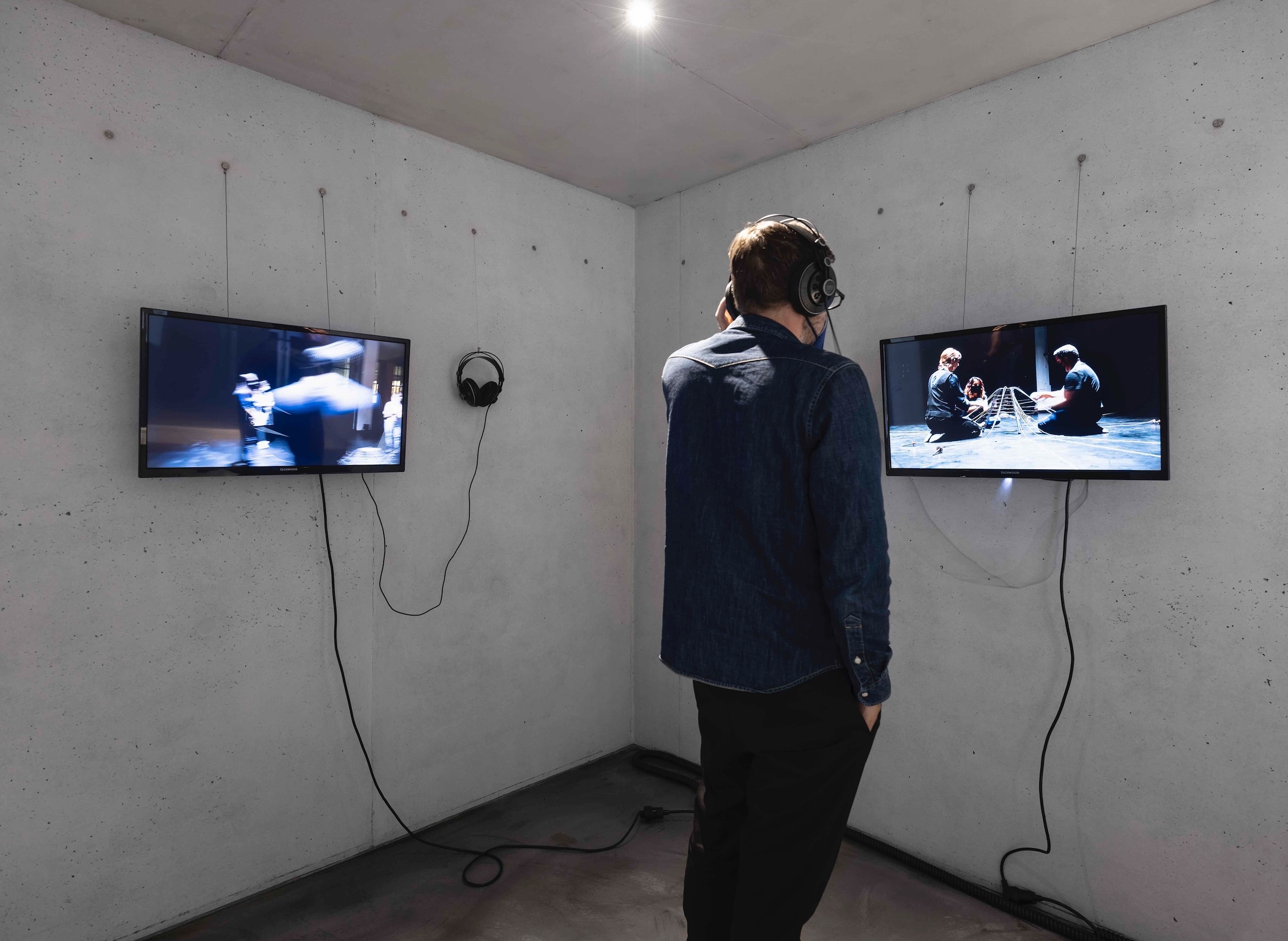 Residency Studio, Masterhouse Muche: